Posted by Lois Fife on Jun 06, 2023

When given the opportunity to join a trek in the Scottish Highlands, I jumped at the chance. Being a regular hill walker on the North York Moors and with a few multi-day hikes in the Lakes under my belt, I had done very little, on foot that far north.
My kit choices for the weekend were selected based on a damp but calm weather forecast and potential overnight low temperatures into minus figures, balancing comfort and a good night's sleep with a lightweight pack. Enough suitable clothing for 3 active days and sufficient provisions for 2 evening meals, 2 breakfasts and daytime snacks all packed into a Gregory Women's Facet 45 rucksack a women's fit, this rucksack took very little adjustment to get a secure fit on the hips and good adjustment onto the shoulders. The mesh covered padded back allows airflow and doesn't leave the back feeling damp. The 45 litres is primarily one main compartment with a sizeable lid split into 2 pockets accessed one from the outside and the other from the inside - great for securing small items. The 2 side mesh pockets are deep and stretchy, easily accessible for a drink bottle and I used the other side for my tent poles and a Thermarest Z-seat sit mat . There is also a large rear mesh pocket for quick access items and external loops and clips to attach my Fizan trekking poles . The black rain cover proved invaluable for the wet weather that Scotland threw at us that weekend.

Tent: Wechsel Bella - This is my spacious 1.5 person, 3 season tent. As it pitches outer first it is ideal for pitching in wet weather as the inner remains dry throughout. The free-standing design pitches very quickly and is a sturdy structure with one continuous Dac Aluminium ridge pole that fishtails at each end for stability, and a cross pole providing good internal width and a sizeable vestibule, large enough for rucksack, boots and somewhere to cook. As I'd carried my tent poles externally on my rucksack, the tent inner and outer packs down small for easy storage in the rucksack or in the rear mesh pocket.
Sleep System: As a cold sleeper, I find the combination of the Nemo Women's Riff 15 Sleeping bag and the Tensor Insulated sleeping mat perfect for 3 and 4-season use in the UK and ideal for this trip. The spoon shaped Riff 15 has 825g of down in the Women's and 800 fill power giving a comfort limit of -9C. The long zip and thermos gills help to regulate temperature and dump heat when required. As a side sleeper, I find the Riff has the benefits of a close-fitting bag but doesn't leave me in a twisted knot by the morning, the spoon shape stays in position, yet allows me to rotate within it. The lofty neck baffle keeps the draft out without having to be sinched too tight. I use the Fillo Elite pillow which slides nicely into a sleeve in the hood of the bag to keep it in place – no more playing chase the pillow round the tent in the middle of the night. The hood and the foot of the sleeping bag are made from a waterproof fabric which stops the bag from getting wet if it comes into contact with condensation on either end of the inner tent. The Tensor Insulated sleeping mat has an R value of 4.2 putting it at the lower end of winter mats but with a small pack size and a weight of less than 500g it was a perfect choice giving both warmth and portability for this trip. The inflation sack is easy to use and fills the mat quickly. Deflation is rapid when the large air valve is removed, making rolling and packing the mat a quick and efficient process.

Clothing: Outer layer - Mammut Convey Tour HS Hooded jacket, 2.5 layer Gore-tex Paclite with 28,000HH (very waterproof) and Ret<9 (good breathability). Making it a good choice for activity in wet conditions, but not too thin to use with a backpack.
Trousers: Women's Kinetic 2.0 Pants - As these trousers feel like a softshell and have a small amount of stretch, they are comfortable for prolonged activity yet they perform like a hardshell with a 20,000HH.
Other Clothing Included: 3 Patagonia Merino long sleeve base layers - Women's Capilene Cool Merino Graphic Shirt so that I always had a dry one to change into at the end of the day then sleep in and wear the following day. An Outdoor Research mid layer fleece. Merino leggings for sleeping in. Montane Anti-Freeze Down Hoodie , Tilley hat, Rab Beanie, Trekmates Goretex gloves and Darn tough Hiker Micro Crew socks .
Footwear: The Hoka Kaha 2 GTX offer good protection in damp conditions, and so long as water doesn't go in the top, they are great for keeping feet dry whilst walking through damp grass and over boggy hillsides.
Stove/Camp kitchen: SOTO Amicus Stove with Stealth Igniter Titanium 750g pot, Sea to Summit X-Tumbler Cool Grip , Titanium spork and Expedition Foods Macaroni and Cheese (High Energy Serving ).
The 3 days started at Dalwhinnie where I met Myrrdin, my Trek Scotland guide, for the weekend, and my fellow trekkers. After introductions, kit preparation and an inevitable amount of faff, we set out along the north shore of Loch Ericht. The track was an access route for the Ben Alder Estates and wide enough to walk side by side and get to know one another. Also, an opportunity for us to tweak packs and boots as we settled in at a steady pace for a couple of hours until we found a nice beach area, perfect for our first brew stop of the weekend. We were certainly well catered for with a vast assortment of beverages to suit all pallets and dietary requirements and certainly helped to keep the spirits high.
With the loch behind us, we continued on good paths in a westerly direction, gradually climbing through beautiful natural woodland onto the open hillside, where semi-wild horses roam freely until required by the Estate for their physical strength. As we ascended, the paths got narrower and more natural, eventually we were walking single-file and taking care on the uneven ground. Trekking poles becoming essential for balance and stability. We skirted close to Loch Pattack on our right and crossed various streams that were meandering in its general direction. With this many streams, we had abundant opportunities to replenish water supplies. I was using the Pure Clear 'Active' filter water bottle which is very easy to use, literally just take the lid off and refill it, then the filter removes 99.99% of bacteria and viruses through the filtration straw as you sip. This 750ml bottle meant I didn't need to carry excess fluid that added weight.

After about 18km we came to a junction, signposted 'bridge' and an arrow. We crossed the stream and found a good flat camping spot close to the iconic Culra Bothy. This was to become our basecamp for the weekend. With the forecast showing low cloud and damp conditions for the whole weekend, our initial plans for high level wild camps were shelved in preference of a drier camping environment and subsequent lightweight ascent of the Munro's.
With tents pitched, sleep systems prepared and a quick bite of lunch, we restocked our packs with essentials for the rest of the day: food, fluid, waterproofs, warm layers and a headtorch. With condensed lightweight packs and refreshed vigour, we set of in search of Beinn Bheoil with prepared tracks soon giving way to heathland and seemingly untracked terrain. Unlike hiking in other areas, where keeping to waymarked trails is mandatory, this liberal roaming over moorland seemed highly irresponsible and concerns for erosion and damage to vegetation were discussed. Now in low cloud, we kept close as a group and relied on the map and compass navigation of our guide to reach to summit at 1019m. My first Munro! Others in the group were well into the 200s but equally as jubilant to add this to the tally.
We descended the rolling landscape to the 'bealach', a new word added to my vocabulary, which I learnt is a Gaelic word to describe a pass used by people or animals to cross through mountains. This is contrary to the word 'col', that I would have possibly used, which is a French word and tends to be a high level often steep sided pass between 2 mountains. With the lesson over, it was decision time! We were posed the following options…
1) Descend to basecamp for food, bed, sleep in preparation for tomorrow being a big day of 4 Munros including Ben Alder, the highest of the weekend. Or,
2) Proceed up Ben Alder as an out and back with the knowledge that a return to basecamp would be a late finish, head torches likely and a late supper. The advantage of adding Ben Alder to day one would give us better weather for the summit as the forecast for day two was significantly worse. We debated the pros and cons and how we were all feeling physically and mentally and we were in agreement that we would continue to Ben Alder.
The ascent up Ben Alder starts steep and technical with tussocks of grass and fields of boulders to negotiate. We zigzagged up at a steady pace taking care with foot and pole placement. Taking stock every once in a while, to catch our breath and peruse our surroundings. As we got higher the gradient diminished and we continued to climb on easier terrain towards the snow line. Snow earlier in the week had potentially put the trip in jeopardy, but a rapid thaw allowed us to proceed, but pockets still remained high up. Many areas we could avoid, but a few sections were unavoidable. As we got closer to the summit, having been in cloud for most of the afternoon, we got a sense that the cloud was very thin above us, which allowed the sunlight to creep in, creating a lovely surreal light. We knew we had worked hard for this summit, Ben Alder 1148m, and the topping out ceremony did our efforts justice and we celebrated with photographs and a quick brew in the knowledge that we would need to retrace our steps in fading light.

Coming down is often as slow as climbing up and this was definitely the case on the technical sections coming off Ben Alder. With fatigue starting to set in and concentration not being as sharp this late in the day. Our guide shared useful techniques to help get down safely which was much appreciated as this was far more technical than anything I'd experienced south of the border. Once back at the bealach, we knew the track back to camp was pretty straight forward, but basecamp was quite a distance away. I don't think we wanted to know the distance at that point, we just got on with putting one foot in front of the other and relying on muscle memory. The group was pretty quiet on the walk back, every bit of concentration going onto the path in failing light. As our eyes adjusted, the light failed further and finally we resorted to using our headtorches for the last hour. The familiar sign for the 'bridge' was a welcome sight with the knowledge that once over the bridge we were only a couple of hundred metres from food and a well-earned sleep.
Once refuelled with a cup a soup and almost too tired to eat my Mac and Cheese I rolled into bed at 11pm having walked just shy of 40km and ascended 1240m. I had given my all to day 1 and was convinced I would wake the following morning unable to walk and certainly not be in any fit state to tackle 3 Munro's. I did not want to be a liability to myself or the group and my exhausted mind took over with irrational thoughts about what day 2 would bring. Once asleep I slept like a log. The Nemo Riff 15 and Tensor insulated combo work exceptionally well for me as a cold, side sleeper and I didn't know anything until the sound of the stream forced me from my pit at about 7.30am. My concerns from the night before stayed with me as I ventured to the communal tent for breakfast. I discussed my options with our guide and he reassured me that day 2 would not be as physical or long as the previous day, and as we already had Ben Alder in the bag the pace would be more relaxed. After breakfast and a large cup of coffee I felt human again and had a more positive attitude. As my fellow trekkers emerged from their tents, we all shared our thoughts about the previous day and put on a united front to tackle day 2: slower pace, 3 Munros, poor weather, shorter day, head torches would not be required, though we took them just in case!

As we set off back up the track, we had descended a few hours previous in the dark, we got glimpses of Beinn Bheoil and Ben Alder as the clouds swirled around their summits. Our legs soon found a familiar rhythm, my Hoka Kaha II boots absorbing the ground and helping my body feel energised. The Gore-Tex membrane working well and keeping my feet dry as we skipped over streams and used stepping stones across rivers.
We eventually turned off the well worn track and ventured off-piste for a long but steady climb towards our first Munro of the day Gael Charn at 1132m. As we climbed the weather turned typically 'dreich'. Such a good Scottish word for grey damp weather. My clothing choice for the weekend coming into its own. The outer combination of Rab Kinetic 2.0 pants which kept me dry but not restricted in movement and Mammut Women's Convey Tour 2.5 layer Gore-Tex jacket worked well with a single layer underneath. As a glasses wearer, I opted for a Tilley hat as the brim goes some way to keeping the rain off my glasses.
Soon after descending off Gael Charn we found ourselves on the upslope heading towards Aonach Beag at 1116m our 2 nd Munro of the day, my 3 rd and 4th in close succession, not that I'm counting, but I guess this is how it all starts! After a steady descent we hit a junction marking our descent back to basecamp, but with one final Munro of the day to do, we dumped our bags and enjoyed a bag-free, out and back climb up the ridge with a snow lip on our right and a rugged drop to the left, all blanketed in low cloud. Such a shame we didn't get the views from this, or any of the other summits of the weekend, as I think this one in particular Beinn Eibhinn (1102m) would have been spectacular.
Once reunited with our bags, we descended back towards basecamp. The going was slow due to the terrain as we circumnavigated a wide based hill which dropped off to our right. The adjustable Fizan poles playing a part in keeping me upright and stable as I kept the right one a little longer to reach the lower ground.
Our reward for enduring a day of Dreich weather was the gift of a rainbow as we dropped out of the clouds. This gave us just the lift we needed to guide us back to camp for a more relaxed evening by the river, sharing stories and refuelling as red deer meandered through camp, not bothered by our presence in their environment.

With a 6 hour drive ahead of me and an estimated arrival time back to Dalwhinnie of between 5 and 6pm, I decided not to do the final Munro on day 3, which involved a sharp ascent and very long descent off the back, repeating our descent from the day before, so I took the opportunity to have a leisurely breakfast, pack-up, take some photographs and walk the 18km back to Dalwhinnie with time to drive back south of the border.
I am taking away lots of good memories from this trip, which certainly has been the toughest few days walking I have experienced. Scotland is on another level and I plan to return to see some views! My kit served me well and I would not have changed anything. The Gregory Facet 45 litre had enough capacity and was comfortable when fully loaded for the walk in and out of basecamp. My Hoka shoes remained comfortable and my feet dry. My clothing worked well on a technical front, though my Rab Kinetic 2.0 trousers suffered from a small rip when I slid down a rock to reach a foot hole. This will be repairable with Tenacius tape and I will wear it as a battle scar from my first Munro trip to Scotland.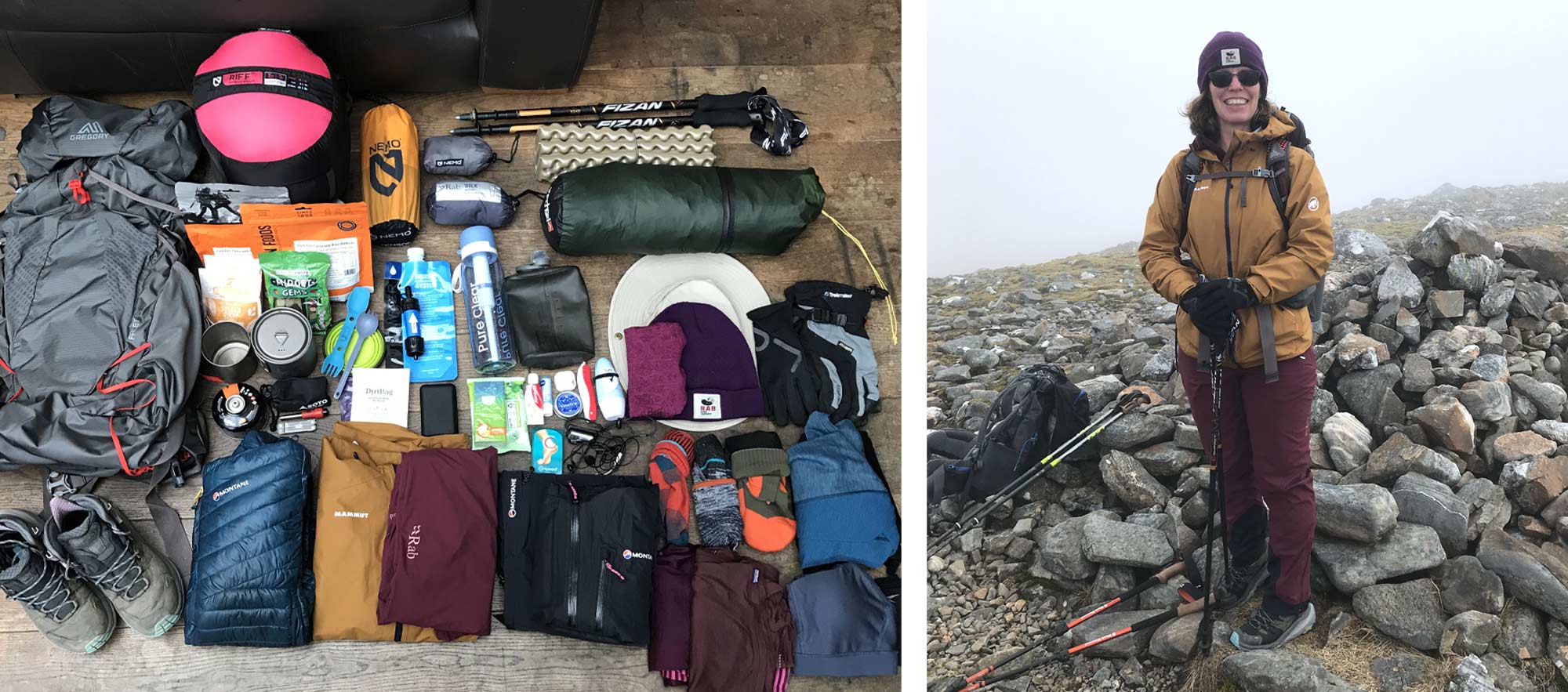 Lois Fife




Lois is a keen cyclist and is always plotting a route… either for her next trip or looking for a different way to commute to work! She is regularly seen heading for the hills on a packed-up bike, be it for a quick overnight wild camp, or a longer multi-day adventure. She is currently plotting her route to walk the TGO across Scotland. She is a British Cycling level 2 leader and has been involved with MTB Guisborough encouraging the next generation of mountain bikers. Lois joined Ultralight Outdoor Gear in 2021 and is part of the Customer Service Team. She is always keen to get her hands on new kit to try in the field and share her findings on the website.